CAPG's Annual Conference in California attracts national industry leaders from top medical groups, independent practice associations, hospitals, health plans, and government who come together to share and learn about the latest trends in capitated, coordinated healthcare.
Among the many presenters were executives from three leading healthcare organizations, each presenting their successes and lessons learned in care redesign and innovative care delivery models.
Sutter Health's Advanced Illness Management Program
Northern CA | Serving 3K Advanced Illness Patients | Presented at CAPG by Larry deGhetaldi, MD, Family Physician and President of Palo Alto Medical Foundation at Santa Cruz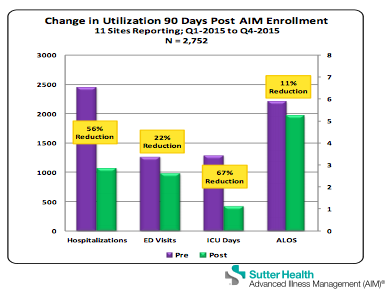 In 2009, Sutter Health launched a small pilot for a new program called Advanced Illness Management (AIM), a new approach to care during that part of life between relative wellness and hospice care at the end. AIM was conceived and implemented to change the personal experience of advanced illness and the way health care at this stage of life is supported and financed.
This care management program focuses on patient engagement, self-management support, and care coordination combined with palliative-care principles and clinical support. AIM services encompass both high-touch home visits and telephone management support, and are provided regardless of reimbursement or clinical acuity. AIM care managers focus on patient preferences, emphasizing home and community-based care options as alternatives to hospital-based care.
In just a few years, AIM has reduced hospitalizations and ER visits for seriously ill patients, improved pain management and reduced intensive care stays, all while reducing Medicare and Medicaid costs by 32 percent. The single greatest challenge is surge in demand. According to California's census, there are nearly 10 million baby boomers. A report from the Public Policy Institute of California indicates that the state's over-65 population is expected to increase by four million by 2030. To meet the care needs of this large and growing population requires aggressive expansion of senior care and unremitting medical staff recruitment and training.
Triad HealthCare Network
Central NC | Serving 86K Managed Lives | Presented at CAPG by Jim Osborne, MD, FACP, Population Health Medical Director, Triad HealthCare Network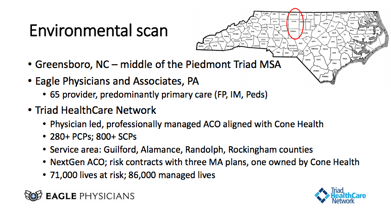 Triad HealthCare Network is a physician-led ACO with 280 PCPs and more than 800 specialty care providers, serving more than 86,000 managed lives across a Next Generation ACO and three risk-based contracts with Medicare Advantage plans.
On their path to growth and maturity with risk-based contracting, Triad executives have followed four steps to steady, incremental success:
Understand what accountable care means to your network. This is important because it is difficult to start (and impossible to sustain) truly accountable care in a FFS environment.
Understand what you need to start the process. Much of what you need is cultural, including physician leadership, practice culture, and a willingness to look at your cost and quality data. These are prerequisites to the harder steps of changing your compensation formula, making significant investments, and seeking help from payers and others.
Understand that you cannot predict what the path may look like. Look for various opportunities that will allow you to re-invest in your practice's change and to pay providers differently, such as PCMH certification, PMPM payments for adding services beyond FFS structure, and FFS payments or enhanced FFS payments for non-face-to-face services, among other options.
Understand what the financial and quality outcomes can be. This will help you plan for reinvestment in your new approach and prepare your teams for more complex risk-taking structures, to continually grow and mature with risk-based contracting.
Key Medical Group
Central CA | Serving 7,000 Medicare Advantage and D-SNP Members | Presented at CAPG by Brent Boyd, Strategy Officer, Foundation for Medical Care of Tulare and Kings Counties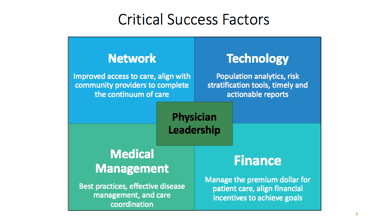 Key Medical Group in California has been on a journey to high risk for several years. Following early success with Medicare Advantage contracts, Key partnered with Kaweah Delta Medical Center, a 581-bed hospital, in a new global risk agreement.
Their path to high risk has involved preparation in four strategic areas:
Team-based care: "Virtual Care Teams" were created including roles like case management, clinical pharmacists, social workers, health coaches, and mid-levels. Leadership engaged these teams in the task of defining data needs and contributing ideas for innovation.
Risk adjustment: Key dedicated staff to the risk adjustment function, but also included team oversight and support. Tasks to master include tracing the data transfer; tracking the Risk Adjustment Factor by PCP, line of business, and by meaningful groupings of providers; and treating risk adjustment thoughtfully with consideration to compliance and long term data needs.
Business operations: Even if undertaking only partial risk, Key suggests investing in learning how your Medicare Advantage Plan partner operates, including the CMS Bid Process & Benefit Design, the pharmacy expense, all Part A & B costs, and the regulatory & compliance framework.
High-cost populations: Understanding the top 5% high-cost/high-needs patients requires seeing episodic vs. trending costs and needs. Predictive modeling can separate the historic 5% from the future 5%.
More info about the CAPG Annual Conference is available at the association website and on the Twitter hashtag #CAPGInnovates.