If your community is anything like St. Louis, Missouri, then your local food bank or pantry is currently experiencing a profoundly rising rate of demand. The greater St. Louis 211 helpline recorded a 207% increase in requests for food pantry referrals between March 12-25 this year, compared to the same period in 2019. Due to COVID-19's impact on the economy, requests for food assistance have at least doubled in every state, and increased 5-fold in over half the states where data is currently available.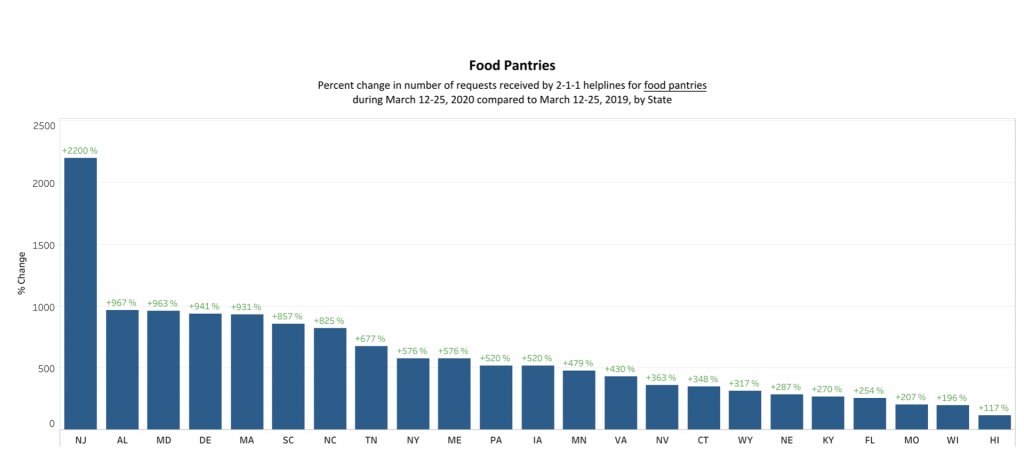 The 211 helpline system connects economically vulnerable Americans with needed health and social services (like food banks or pantries) in their communities. These free information and referral services help people access services through more than 200 call centers covering all fifty states. Nationally, the helplines made over 12.8 million referrals in 2018. Most callers to 211 are seeking assistance with social needs such as housing, utility bill payment, and food. Callers are disproportionately low-income women with children.
How does your 211's problem resolution rate compare to St. Louis?
Researchers at Washington University in St. Louis are among the country's leading experts in 211 data analysis. In 2016, they published the first analysis of how 211 services help callers resolve their problems. In a study of 1,176 callers, they found that problem resolution rates for all callers ranged from 25% for employment to 64% for food assistance. Overall, only half of all 211 callers reported at a 1-month follow-up that their problem had been resolved.
The standard 211 referral process consists of a caller self-reporting their needs to a 211 operator, who queries a database to identify at least three services that could potentially help meet the caller's needs. These services are provided to the caller as referrals, and callers are given instructions for how to contact the referrals directly. Here is how this process has helped resolve problems for callers in St. Louis:
Among those callers that received a referral to a social service from 211 and then contacted the service and received assistance, 70% reported a successful problem resolution.
Among those that received a referral from 211, contacted the service but did not receive assistance, only 41% reported a successful problem resolution.
Only 36% of callers who contacted social services indicated that they received assistance. The most common reasons for not receiving assistance were the referral agency not having funds (34%) and the caller not qualifying for services (25%).
Do you know your community's social services capacity in real time?
Only one-third of 211 callers who make the effort to contact a social services referral actually receive assistance from one of those social services organizations. The researchers at Washington University of St. Louis shared their perspective on this problem in the April 2020 issue of Health Affairs, the leading social interventions journal.
In a worst-case scenario, social needs interventions that unwittingly refer vulnerable patients to social services agencies with low capacity could create a lose-lose-lose scenario: Patients are sent seeking help that largely doesn't exist; community agencies that are already stretched thin experience increased workloads, often as bearers of bad news to needy people; and health care professionals waste precious time, lose credibility, and don't get the outcomes they seek.
This lose-lose-lose scenario is avoidable. In Activate Care's interventions across the country, we see social services organizations referring their own clients to each other to ensure clients receive the right help when they need it. It is critical for 211s and their partners in United Way, local government, and philanthropic funders to gain clarity around their community's real-time capacity for social services. With this information, community conveners like 211 can help social services organizations share capacity and help more individuals in need.
---
Join the thousands of smart folks like you who have already subscribed to Activate Care's weekly "Topics in SDOH" newsletter >> Sign up here
---
Are local healthcare leaders involving your 211 in their linkage interventions?
Linkage interventions are designed to connect people to needed social services in their community through one-time referrals or ongoing case management. Healthcare executives have become more interested in implementing these interventions in recent years. Their interventions typically provide these referrals via clinic-based interactions, proactive outreach outside of clinical appointments, and implementation of new community resource referral platforms like Aunt Bertha and Activate Care.
The Washington University researchers found that "system capacity can vary widely for different social needs, by state, and by ZIP codes within a state, which raises important questions about the possible limitations of linkage interventions that are now being widely used by health care organizations. Current approaches to addressing social needs among patients with low socioeconomic status are likely undermined in many communities by limited capacity in the social services system. This may be especially problematic for certain high-prevalence needs, including many related to housing and transportation."
211s can offer valuable community-level data on capacity and demand, which can help healthcare and social services leaders "prioritize and allocate resources among social needs, and develop and enact policy proposals to expand the availability of social needs resources." This represents a compelling opportunity to generate new revenues that can help to sustain your 211 operations. At Activate Care, we have experience helping 211s create these local partnerships that turn lose-lose-lose scenarios into win-win-win scenarios: outcomes improve, social service capacity expands, and healthcare values the role of 211 in the ecosystem.
It takes a community to break the cycle of social needs.
Are you a 211 leader who wants to learn more about Activate Care's offerings? Email us at info@activatecare.com, or join our MasterClass Webinar Series to learn from our national team of experts.