The Hero's Guide to Putting Care at the Center

For the past several years, ACT.md has been proud to attend and present at the annual event, Putting Care at the Center, hosted by our customer, the Camden Coalition of Healthcare Providers and their national network, the National Center for Complex Health and Social Needs. This year is no different for ACT.md, and I'm excited to be heading to Memphis with my colleagues from product, policy, implementations, and consulting for the 2019 conference!
The Camden event is one that I look forward to every year because it's different from other industry conferences. It's not just another trade show; it convenes leaders and activists on the frontlines of health and social change. More importantly, this event truly puts people first. Look no further than the agenda to see how many event sessions and panel discussions include patients and consumers as guest speakers and experts. With their voices included, this event has made me a believer in our collective ability to change the healthcare system.
If you're heading to the event this week, stop by our table in the Beehive to learn more about our work with the Camden Coalition. Our goal is to inspire you to join our community of SDOH heroes – the network of leaders and activists aforementioned, who are on the frontlines agitating for change and making it happen. If your work involves addressing health-related social needs or pushing for systemic changes in how our society addresses the social determinants of health – or both – then you are truly an #SDOHero, and we would love to meet you in Memphis!
There are over 40 sessions you can attend at the event. To help you make your way through the agenda, here are some of the sessions you should attend to learn how to create the collaborative conditions your community needs to succeed with SDOH care. Check out ACT.md's carefully curated #CenteringCare schedule below: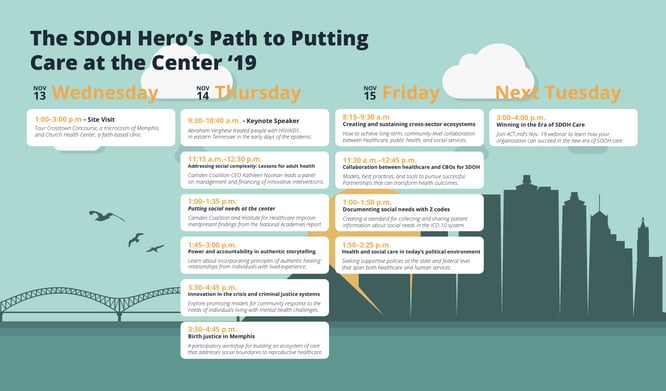 Following the event, join our CEO and Co-founder, Ted Quinn, for his upcoming webinar, Winning in the Era of SDOH Care. Since 2013, we have seen firsthand how organizations are struggling to address social needs and social determinants. Meanwhile, competitive pressures are weighing heavily on providers, payers, and even community-based social services organizations.
We believe that we are five years into a 20-year business cycle – the Era of SDOH Care. In this new era, the only sustainable competitive advantage for your organization is your ability to deliver high-quality SDOH care. Not just referral management, and not just care coordination – but extraordinary SDOH care for everyone who needs it right now.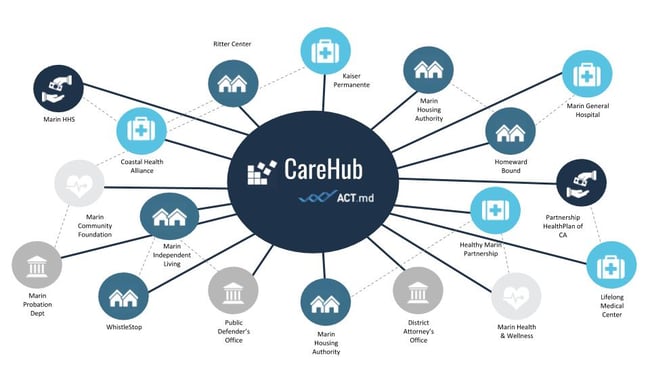 The above map shows the type of health and social services network we convened in Marin County, California. Working in partnership with the county's Department of Health and Human Services, we deployed our CareHub™ platform to help this community deliver integrated healthcare and social services and manage cross-sector data exchange, referrals, and communications. When you can engage the right network of service providers and deliver the right social intervention to the right vulnerable population, you can achieve amazing results.
"We see fewer complex needs patients in the ED, we discharge people faster, connect them to the community better, and see fewer present in the first place... Social services in general has been siloed. ACT.md has helped to flatten these silos and is opening up these worlds to each other."

-- Marin Hospital CEO
Join us on November 19 at 3:00 p.m. Eastern for the webinar, Winning in the Era of SDOH Care. We'll dive into the Marin County success story and share 11 best practices from our network of experts in the complex care ecosystem. Is your organization prepared to thrive in this new era?