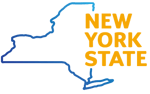 ACT.md was honored to be invited to share a poster presentation at the Social Determinants of Health Innovations Summit hosted by the New York Department of Health earlier this week. It was a wonderful opportunity to talk to people about their innovative ideas and approaches to helping address the social determinants of health for New Yorkers. Thanks to everyone for their interest in ACT.md's approach, too. And wow - what a wonderful turnout of people who are committed to creating innovative approaches to help address the social determinants keeping people from their best health.
It would be impossible to cover all of the interesting ideas of thought leaders throughout the state, but I did want to share a few points and programs that particularly resonated:
Full Community Schools: The United Federation of Teachers partnered with 31 schools in NYC and Family Health Centers at NYU Langone to better serve physical and behavioral health needs of students, families, and the community at large. Great work by Karen Alford, Larry McReynolds, and their teams.
Montefiore Health System's Innovations: Amanda Parsons and Damara Gutnick

really hit home two key points:

Though there is so much implicit value to SDOH work, we need to be able to put an ROI on it. I will borrow their quote: "If there is no margin, there is no mission."

The patient knows what matters to them. Ask, listen, and do what matters!
Thanks for reading,
Amy Vreeland
amy@act.md
Get in touch
There are several ways to get in touch:
Email us at sales@act.md

Chat with us here on the bottom-right of the screen

Send us a note through the form below