Last year I had the privilege to work on a collective impact initiative focused on reducing housing inequities. Community leaders with lived experience with homelessness challenged members of our initiative to rethink the way we spoke about the lack of equitable housing as a "crisis." Why? The word "crisis" does not capture the longevity of this issue, or the real impact of complex trauma associated with generations of housing insecurity, particularly on Communities of Color.
The United States is now the epicenter of the COVID-19 pandemic. The spread of coronavirus across the globe reinforces what we in the SDOH field already know: our disconnected healthcare and social services systems disproportionately impact people experiencing social needs, especially in times of personal and societal crisis. These needs are often exacerbated or directly caused by systemic issues of equity and discrimination. We know that we have the tools and skills to change systems. A crisis like COVID-19 asks us to summon the willpower, as well.
We have never experienced a large-scale human tragedy like COVID-19 in contemporary history. While the illness presents an immediate medical crisis, public health strategies like social distancing, self-isolation, and quarantine are keeping us apart when we need each other the most. These strategies, while necessary, will, unfortunately, cause long-term and persistent disruption to people's lives. Given the scale of this crisis, it is time to look deeper at the impact of the pandemic on the social services that we will need in our communities, now more than ever.
Predicting the economic fall-out in the social services sector
Supply and demand for social services during and after the crisis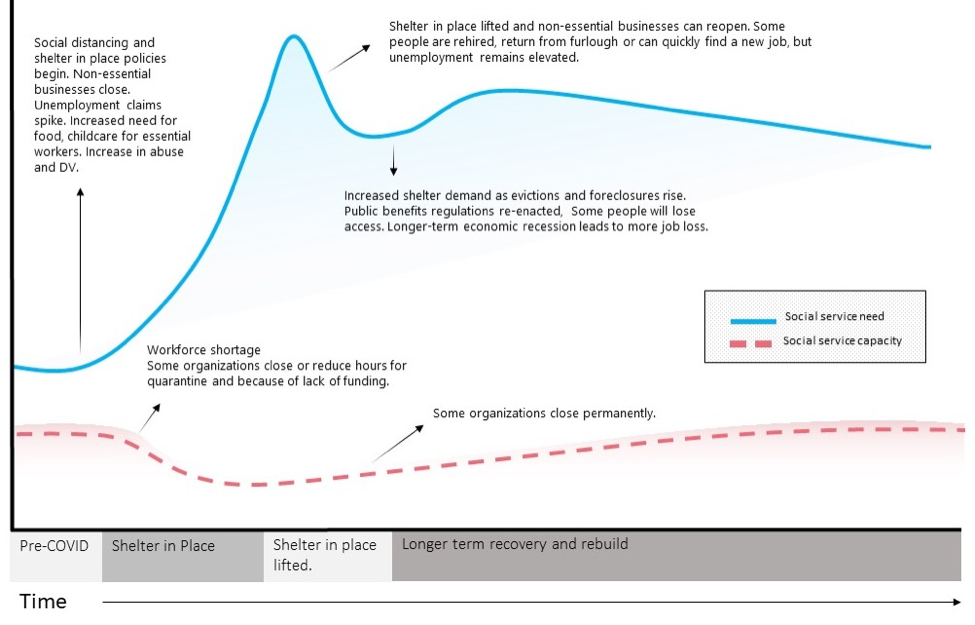 The non-profit Health Leads has been a leading voice in the SDOH field for more than 20 years. My former colleagues at Health Leads recently shared an informative illustration of the potential gap between social services need, or demand, and capacity of the social services sector to meet this demand. It makes sense that demand for social services will grow significantly in the weeks and months ahead. In contrast, the capacity to deliver these essential services will contract as social services providers are strapped for resources and personnel. As described in the illustration above, the primary driver of this social services crisis is the economic recession that economists predict will follow the current period of extended social distancing.
Early data from social services organizations proves the point
Social services organizations are curtailing services and reducing staff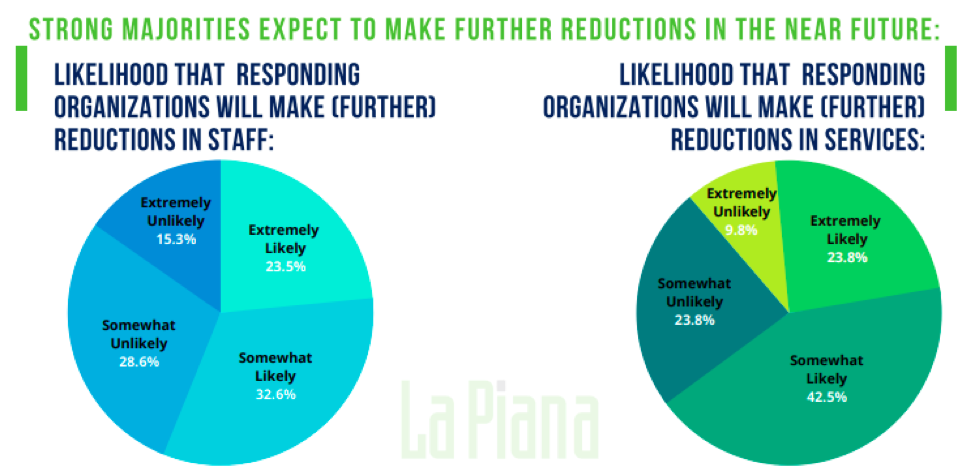 La Piana Consulting, based in California, is a strategic advisor to nonprofits and foundations. In March of this year, they surveyed 433 of their social sector contacts to collect operational data that helps to paint a picture of the current impact of COVID-19 on social services organizations. The preliminary data confirms what Health Leads has predicted:
93% of social services providers have been forced to curtail services or adapt how they have provided them thus far.
70% of social services providers have indicated a loss of revenue.
79% of social services providers have moved some or all of their programs and services to an online

or other digital delivery methods.
This pandemic is unforgiving in so many ways; unfortunately, we have yet to learn its total human and economic cost. Our country's response to the pandemic shows us who our community heroes are, and it has also exposed many of the gaps in our social safety net. These gaps have made the medical crisis worse in the short-term, and they will make the psychological and economic recovery more difficult in the long-term.
At this moment, at the height of the crisis, we can learn to think like SDOH first responders, responding quickly to meet the social determinant of health needs of those impacted. Woefully underfunded social systems are delivering life-saving, health-related social services with limited capacity. We must do everything we can to ease the burden on our social systems, public health departments, and front-line social and community health workers.
Three essential recommendations that will help to save lives
1. Centralize resource information and share it far and wide.
Every day, new emergency resources are being made available by local, state, and federal institutions. Unfortunately, it can be confusing (even in non-crisis times) to find this information on various websites, press releases, and other places. Communities often turn to local information and referral services like 2-1-1 to gather and update this information and respond to individuals as their needs arise. Where 2-1-1 services don't exist or are lacking, this is the time to be creative about centralizing COVID-19 specific resource information and sharing information proactively before individuals need to ask for it.
2. Don't just collect resource information - curate and translate it.
We are flooded with information 24/7 about evolving pandemic statistics, governmental restrictions, public health updates, and more. People in our communities who are experiencing gaps in their essential health-related social needs like food, housing, utilities, and transportation may find it more challenging than others to understand what resource information is relevant and up-to-date. When possible, community leaders should serve as a bridge to accurate information, translating between complex government program rules into accessible language.
3. Focus on the how not the what.
What people need now more than ever are easy, tangible next steps. Often when I look at information about a particular social resource, I see irrelevant, outdated, and frankly unhelpful information; what is glaringly lacking is any direction on what I need to do as a consumer of a service. COVID-19 is compounding the challenge. For example, some food pantries - a lifeline for many in our communities - are offering delivery-only service to encourage social distancing. Community leaders need to undertake a critical task right now: make sure information is accurate, specifically regarding COVID-19, and oriented to practical steps that consumers can take right now.
Successfully addressing social needs in a time of crisis is essential to ensuring the health and well-being of all individuals, regardless of socio-economic standing, but what happens when this immediate health crisis ends? Our momentum must not end, but shift - from triage to prevention.