I first knew that I wanted to be a nurse shortly after the birth of my first child. I was so impressed with the intelligence, skill, and compassion of the nurses who cared for my newborn daughter and me. It inspired me to change careers and return to school to earn a second degree.
As a nurse for the past 13 years, I have seen the impact that nurses have on the lives of the patients and families they care for. Now, as we continue through what are still just the early months of a global pandemic, a nurse's impact is felt at the front lines - both in the hospital caring for the critically ill, but also in the community, participating in public health initiatives from contact tracing and containment, to identifying and addressing a rising tide of unmet social needs.
From its earliest days, the nursing profession has been rooted in principles of health equity and social justice.
Lillian Wald, the founding mother of American public health nursing, called upon nurses to seek out the "deep-lying basic causes of illness and misery, that in the future there may be less sickness to nurse and to cure". Modern nursing education emphasizes a whole person approach to patient care; which means that the patient's family, social, and environmental context are all factors considered when planning nursing care. It's well known that individuals with low socioeconomic status (SES), including income, education, and employment, have poorer health outcomes.
Recent reporting and analysis by the CDC and Kaiser Family Foundation find that COVID-19 disproportionately affects communities of color, who are both more likely to catch the disease as well as die from it. This news, while grim, is unfortunately not surprising, as the relationship between SES, race, and ethnicity make particular racial and ethnic groups at increased risk for having both unmet social needs and poorer health outcomes.
Nurses are uniquely positioned to play a leading role in developing interventions to address unmet social needs and help to mitigate health disparities for the most vulnerable patients.
One such nurse-led intervention can be found at Rush University Medical Center (RUMC). The Food Is Medicine program was designed and implemented in 2019 by RUMC nurse leaders Nicole Wynn, and Jennifer Grenier. Wynn and Grenier established a protocol for screening patients' social needs while they were hospitalized using a social determinants screening tool which includes questions about the patient's access to food, healthcare, transportation, and housing. Through the Food is Medicine program, patients who screen positive for food insecurity are connected to a community assistance program, and are provided with two weeks worth of food at discharge.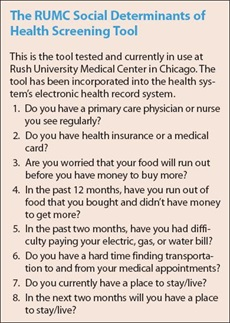 Jerold Phelps Community Hospital is a small critical access hospital located in Humboldt County, CA. When California's statewide shelter-in-place order left many frail seniors home-bound and unable to access services, the Jerold Phelps Family Resource Center mobilized resources to help support this vulnerable population. Family Resource Center nurses, social workers, and volunteers provide outreach services to assess local area senior citizens' needs and provide support including groceries, clothing, hygiene supplies, housing, and transportation. Preventive "upstream" nursing interventions such as these, are designed to preserve health and prevent poor health outcomes, and do so through a collaborative whole person approach that prioritizes a person's non-medical needs as a significant driver of overall health.
In 2019 National Academy of Medicine (NAM) funded by the Robert Wood Johnson Foundation commissioned a consensus study to chart a path for the next decade of the nursing profession and examine how nursing can impact the social determinants of health. In developing its recommendations, NAM states it will consider
"the role of nurses in improving the health of individuals, families, and communities by addressing social determinants of health and providing effective, efficient, equitable, and accessible care for all across the care continuum, as well as identifying the system facilitators and barriers to achieving this goal."
Nurses have been ranked as the most trusted profession in the United States for the past 18 years and are well-equipped to rise to the challenge of advancing health equity through interventions and programs which build bridges between healthcare and the social needs of their communities.
The World Health Organization has declared 2020 as the International Year of the Nurse and Midwife in honor of the 200th anniversary of the birth of Florence Nightingale. National Nurses Week begins each year on May 6th, and this year the American Nurses Association has extended the week to the full month of May. These are especially fitting tributes to the many nurses who show up on the front lines and continue to fight for their patients and communities.