Why do America's community health centers work so well? They provide high-quality health care, improve health outcomes, and narrow health disparities, even while serving more high-risk, low-income patients. They are consumer-driven and patient-centered organizations that serve as a comprehensive and cost-effective primary health care option for America's most underserved communities. They serve everyone, regardless of ability to pay or insurance status. They increase access to health care and provide integrated services based on the unique needs of the communities they serve. Need more reasons?
There are four key components that define community health centers (CHCs) and which are also called federally qualified health centers (FQHCs). These components help them reach America's most underserved communities:
Located in Areas of High Need: Designated as medically underserved areas or populations by the federal government
Comprehensive Set of Services: Based on community needs, health centers offer medical, dental, vision, behavioral health, and enabling services
Open to Everyone: Regardless of insurance status or ability to pay, and offer sliding fee scale options to low-income patients
Patient-Majority Governing Boards: At least 51% of every health center's governing board must be made up of patients
Innovative ways community health centers are providing high quality care
Community health centers provide high-quality, comprehensive care to 28 million patients in medically underserved communities across the nation. As health centers leverage the federal and state investments necessary to bring health care where it would otherwise not exist, they also generate economic gains within the communities they serve.
Telehealth Capabilities in Health Centers
In 2016, 57% of health centers across the nation had either begun using telehealth, were in the process of implementing a telehealth program, or were actively exploring its feasibility. Of that 57%, 38% of all health centers used telehealth to deliver needed services or help patients monitor their chronic conditions. Telehealth programs were especially popular in rural health centers, where many residents can face long distances between home and health provider, particularly specialized providers. In rural communities, nearly half (46%) of health centers utilized telehealth technologies, compared to one-third (32%) of urban health centers.
Substance Use Disorders (SUDs) & Behavioral Health
Health centers experienced a 4x increase in patients receiving treatment for opioid use disorder or other SUDs and health centers doubled their behavioral health workforce between 2010-2016. Also, there were 1,700 health center physicians with authorization to provide Medication-Assisted Treatment (MAT) for opioid addiction as of 2016.
How health centers help to narrow health disparities
Health centers are also unique in that they offer Enabling Services, which are services that boost access to primary care and improve the effectiveness of health services. These services are what set health centers apart from other providers. For example, health centers employ 8,500 case managers and care coordinators, 1,111 translation/interpretation staff, 750 transportation staff, and 21,700 total enabling services staff.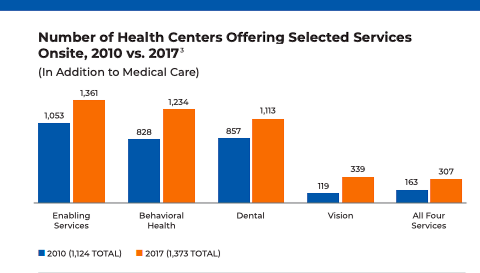 In addition, health centers make it possible for those who may not typically have easy access to health care to get the healthcare and social services they need right in their communities.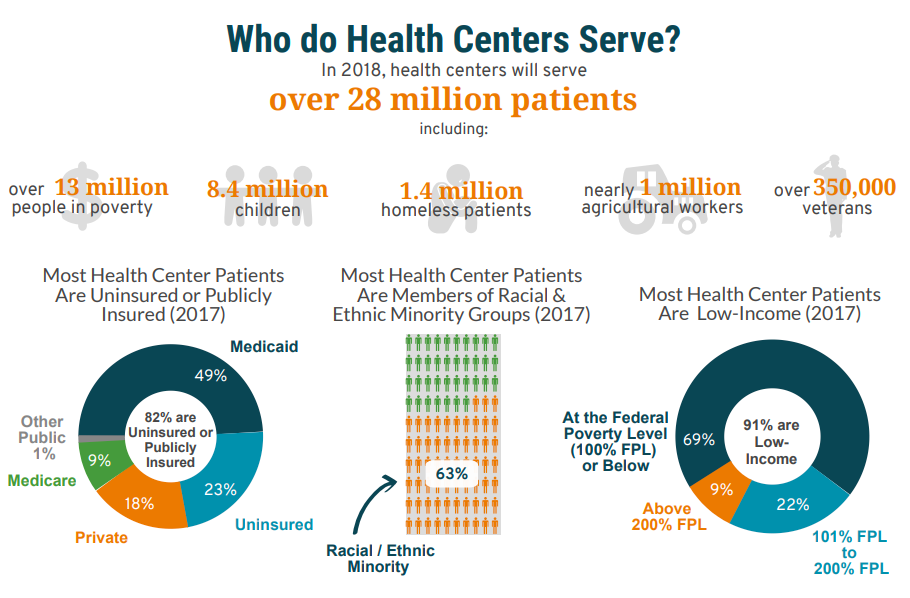 Improving health outcomes in high-risk, high-need populations: SUD & Behavioral Health
Health centers are leaders in integrating SUD treatment with primary care, mental health, and other services to treat the conditions that often co-occur with SUD and provide needed preventive care.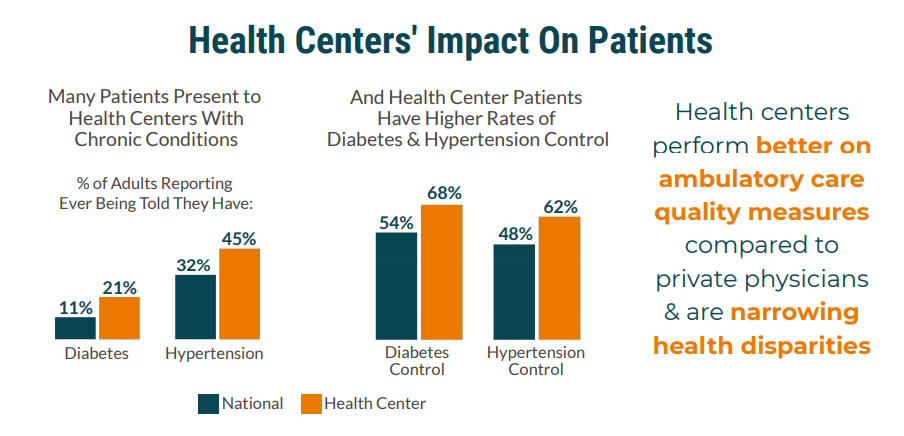 Comprehensive Continuum of Care
The comprehensive set of primary, behavioral health, dental, pharmacy and other services at health centers ensure that patients can be cared for holistically. For example, patients experiencing severe tooth pain can receive dental treatment before that pain leads to potential alcohol or drug dependence. Conversely, patients who are recovering from methamphetamine addiction can access the dental care needed to repair damage resulting from drug use. This continuum of care, from prevention to treatment and recovery, is at the core of the Community Health Center model.
Informed Primary Care and Pain Management
Integrating behavioral health specialists with primary care helps medical providers better identify and address underlying social and behavioral health factors impacting patients' health. It also helps avoid the over-prescription of opioids for pain relief, something that initially played a major role in creating the opioid crisis. To continue to address this, health centers are increasingly implementing chronic pain management programs, as well as alternative therapies, like acupuncture and chiropractic care, to help lower the need for prescription medications and the potential risk of addiction.
Combating Stigma as a Barrier to Care
Many individuals forego needed treatment because of the stigma often associated with visiting SUD treatment providers. However, a health center's waiting room is filled with patients services, from routine checkups to dental care, behavioral health, and pharmacy services. Because of this, health centers can provide a safe place for SUD care, without the negative perceptions associated with addiction treatment.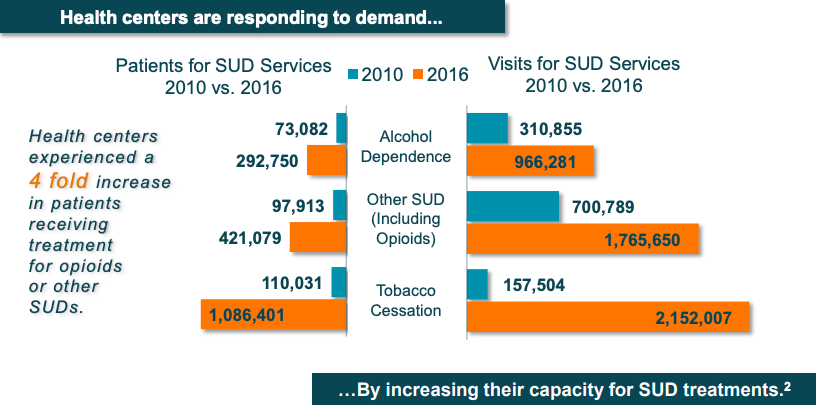 What's next for care coordination at health centers?
A number of leading community care coordination programs leverage ACT.md's cloud-based care coordination technology to provide high-quality health care, improve health outcomes, and narrow health disparities. We are seeing health centers participating in nearly every innovative care redesign project we support. Some of these programs include:
The "Telehealth Epilepsy Care Collaborative" in Massachusetts works with physicians from six community health centers – a total of 13 clinical sites across the state – to better identify signs of seizures in infants, children and adolescents. ACT.md provides these CHCs with a highly sensitive seizure screen platform to conduct initial screenings, which saves parents a potentially long trip to a specialty clinic. Parents can also track seizures in a handy calendar right inside ACT.md.
As critical partners in California's safety net, community health centers are partners in many Whole Person Care pilots.

Health care and behavioral health providers, social services, and community partners, such as housing support organizations, work together to identify their highest-need clients and provide them with comprehensive, coordinated care. Community health centers play a huge role.

At the Camden Coalition of Healthcare Providers, community health centers help to implement person-centered programs and pilot new models that address chronic illness and social barriers to health and wellbeing. Supported by a robust data infrastructure, including ACT.md's CareHub™ platform for cross-sector data sharing, as well as cross-sector convening, and shared learning, Camden Coalition's community-based programs deliver better care to the most vulnerable individuals in Camden and regionally in New Jersey.
Sources:
National Association of Community Health Centers
---